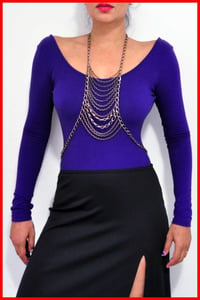 $

130.00
Named for the Greek Goddess of Wisdom, War and Crafts... wear chains in front for War and back for Wisdom... ;)
Vintage copper chains. SOLD OUT!
PLEASE NOTE:
'Athena' can be made with other kinds of chains (shiny silver; matt silver; dirty gold; light matte bronze
Please contact us for more info!))
The beauty of Athena is that she can be worn with chains facing front or draped in back.
The jewel-drop extender is on a separate hook and can be removed.
[See how 'Athena' has been worn here
Customised to fit.
(please provide loose waist measurement & torso length -back of neck to above hipbone- in the special instructions box, PayPal checkout)
Please visit our Facebook fan page for more images... and 'Like' us while you're there!