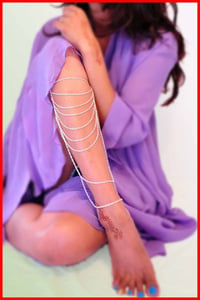 $

45.00
Shiny silver (colour) chain... very sexy and a guaranteed attention getter!
Hooks behind leg under knee/above calf and around ankle.
Has an extender so can also be worn over leggings and skinny jeans.
Customised to fit.
(please provide as tight as possible without cutting your circulation(!) measurement of your leg, just under the crook of your knee & a loose ankle measurement, in the special instructions box, PayPal checkout)
Please visit our Facebook fan page for more images... and 'Like' us while you're there!