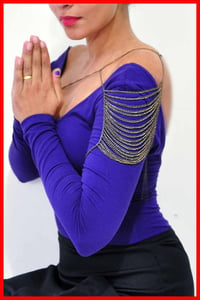 $

65.00
Named for the Hindu Goddess of wealth, prosperity (both material and spiritual), light, wisdom, fortune, fertility, generosity and courage
...and the embodiment of beauty, grace and charm.
An intricate piece made to drape down your arm.
(Ooh That rhymes!)
Antique gold (colour) fine chains. Also available in silver.
This armlace reaches across the chest in a gentle hug, to fasten under the opposite arm.
....this ensures it stays in place no matter what you're doing.
This armlace also fastens around the arm.
Both fasten clasps have extenders.
Customised to fit.
(please provide upper arm measurement -just under bicep & from shoulder to under opposite arm- in the special instructions box, PayPal checkout)
Please visit our Facebook fan page for more images... and 'Like' us while you're there!